On September 14, 2016 at about 11:00 AM, we filed a formal complaint with "The Office of the Ombudsperson" who claim they are "B.C.'s Independent Voice for Fairness".    I must admit, their title and slogan seemed to really give me hope.    After some 363 days – it looks like they have got around to finally answering my complaint.
Do I blame them for the delayed response?   No, I do not.   Considering whom they had to communicate with to get answers, I will give them a pass!  It is VERY difficult to get anyone at the BC Securities Commission to reply to anything even remotely close when they are being accused of being in the wrong.
Now, as you can see below, according to the writer, the reason the amoeba's at the BCSC have never replied to my repeated requests for answers is that it is "not unreasonable for the Commission to stop communicating with a person whose behavior it determined to be inappropriate.  Inappropriate behavior may include behavior that is aggressive, abusive, over frequent, and/or threatening."   The letter goes on to state, "In response to our questions, the Commission told us that it made the decision to stop communicating with you because it determined that your behavior towards them was inappropriate.  It made this decision in light of the volume of your communications, previous explanations that had been provided to you, issues that had been canvassed at the hearing and dealt with by the Panel's findings, and times when your communication was perceived by the Commission as aggressive in tone.   The Commission also referenced, as part of its decision to stop communicating with you, the contents of a blog you appear to have created which included obscenities and photos of various Commission staff."
First of all – this blog started on May 18, 2016!  The letters that I wrote to BCSC Chair were written on Letter to Brenda Leong – May 9, 2016 , Letter to Brenda Leong – May 11, 2016 , Letter to Brenda Leong – May 13, 2016 Letter to Brenda Leong – May 16, 2016 .  (Click on letters to read them).
LEONG HAD AMPLE TIME TO REPLY TO MY LETTERS _ THE BLOG CAME AS A RESULT OF ME WANTING PEOPLE TO KNOW THE TRUTH ABOUT THESE COWARDS AND AS A RESULT OF LEONG NOT REPLYING TO MY REQUEST TO ANSWER MY QUESTIONS!!   
Albeit by looking at the dates of the letters it would appear that they were very frequent yet when you actually read them you can instantly tell they are for essentially 3 different things.    I broke the letters up into 3 parts for various reason included not wanting Leong to be overwhelmed by my request and I wanted her to treat them differently.
By reading them, one can immediately see that they are NOT abusive and were written BEFORE my blog even started.   Whomever replied to the Ombudsperson office appears to be a LIAR – and once again reflecting away from the truth or answering any questions.     The first picture ever put into the blog was that of Brenda Leong on May 19, 2016 (click) and its was a random picture that was found on the internet.   This was not abusive in nature and there was no disrespect intended whatsoever.
The first meme picture that was posted on this blog was on August 4, 2016 (click), and it wasn't even a staff member – it was that of BC Premier "Crooked" Christy Clark.   On September 13, 2016 – we again posted a stock, very generic picture of Brenda Leong that was found on the internet.
The first derogatory picture came on October 17, 2016 (click) and it was NOT physically of any Staff member – just simply implying that the BCSC Staff had their heads in the sand.  Can one argue they don't at this point?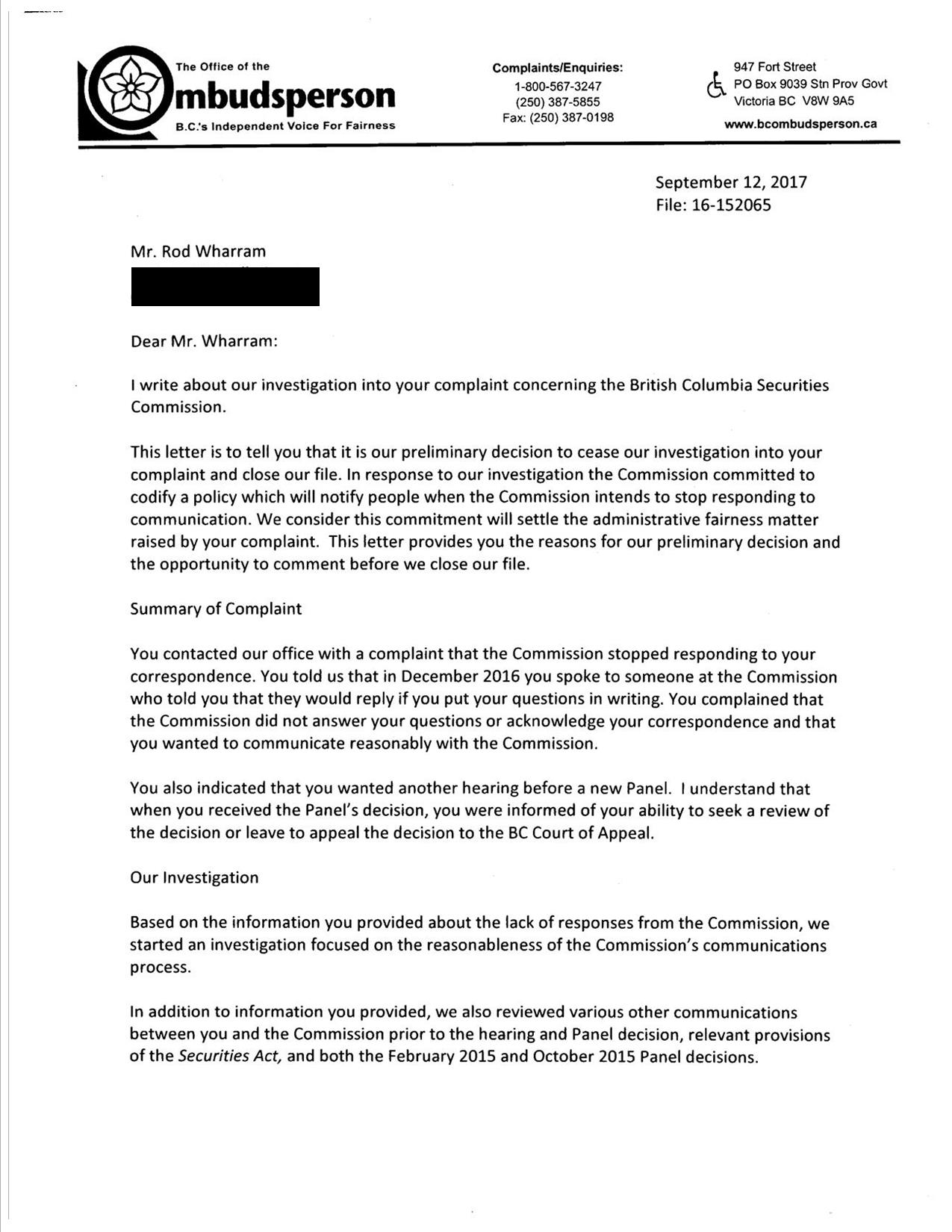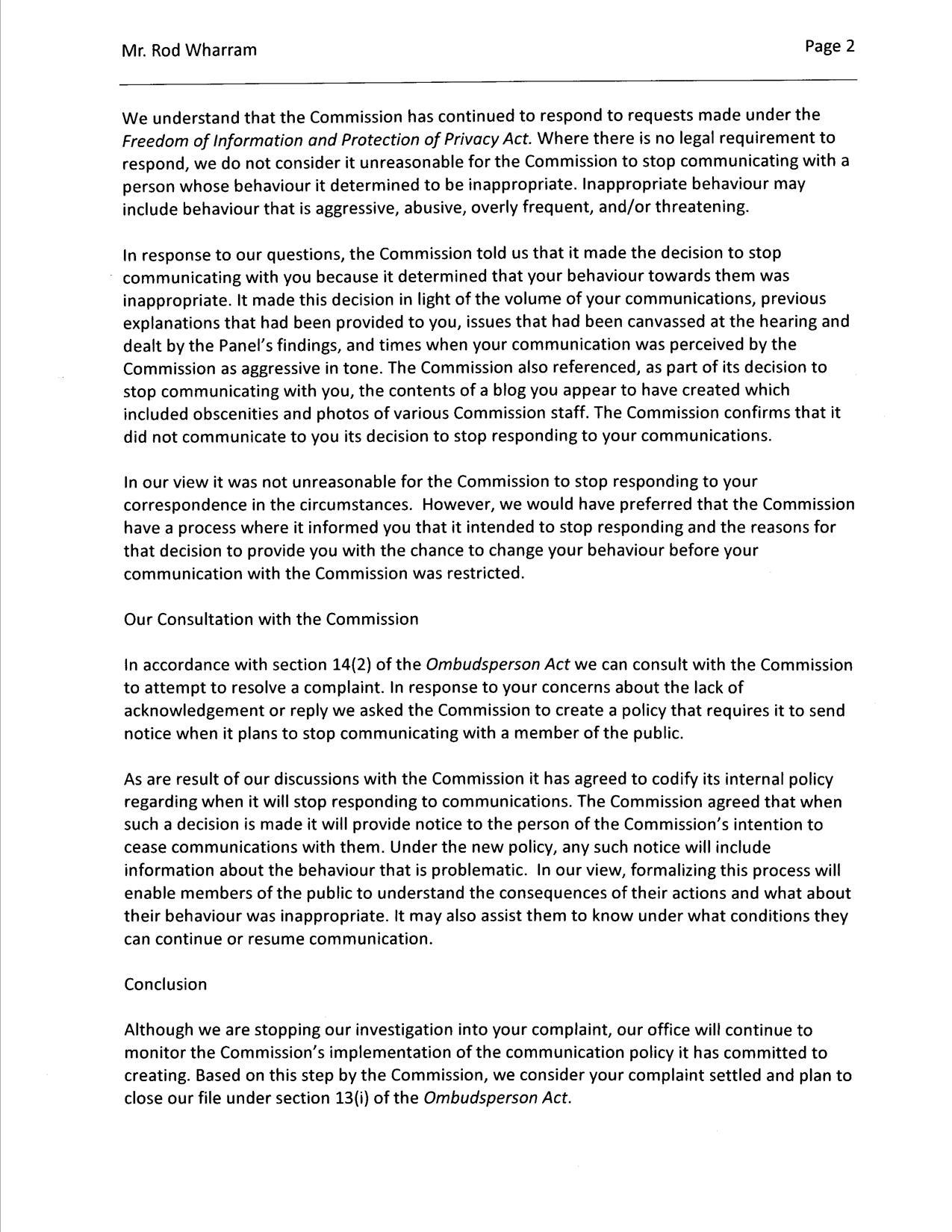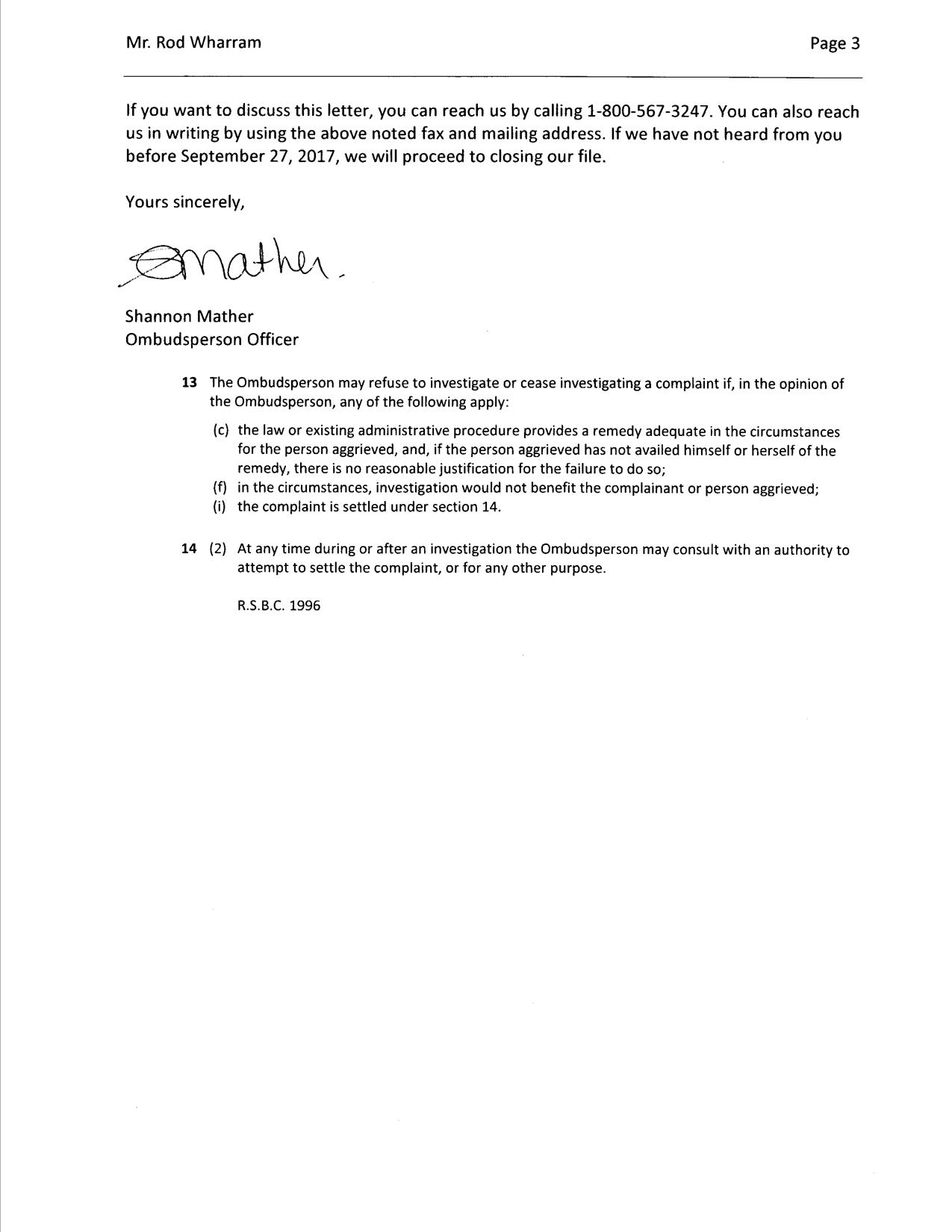 Again, am I disappointed with their response?   For sure, but I really cannot tell you I am surprised.   John Reid (whom originally called me after my complaint was filed) said he would get me answers but shortly thereafter I received a letter stating he was no longer going to be employed by the Ombudsperson's office.    The person who replied (Shannon Mather) is someone I have never spoke to on the phone.
Interesting enough is that at the end of her letter, she indicates that if I want to discuss the letter (to avoid her closing the file) then she needed to hear from me before September 27, 2017.   I received her letter on September 21, 2017 and called her on the morning of the 22nd.   I called again on September 25 and the morning of the 26.    Finally on September 27, I got through to someone that told me Ms. Mather no longer worked in their office.
I talked to a person named Matt and he indicated he was a Manager's assistant and confirmed the Mathers no longer was employed by the Ombudsperson's office.   He told me he would not close the file and that it would be referred again back to a Ms. Rose Stanton (who was formally Ms Mather's boss).   He thanked me for my manners and indicated that he thought my concerns with the BCSC were valid.
We are NOT the only one that has complained to B.C.'s "Independent Voice for Fairness" – we only hope others have better results.   I can only wonder what rabbit the Cowards at the BCSC will pull out of their hats this time to avoid answering questions.  Some of the others didn't write blogs or post pictures of the Staff at the BCSC, so what are they gonna use this time to avoid answering questions.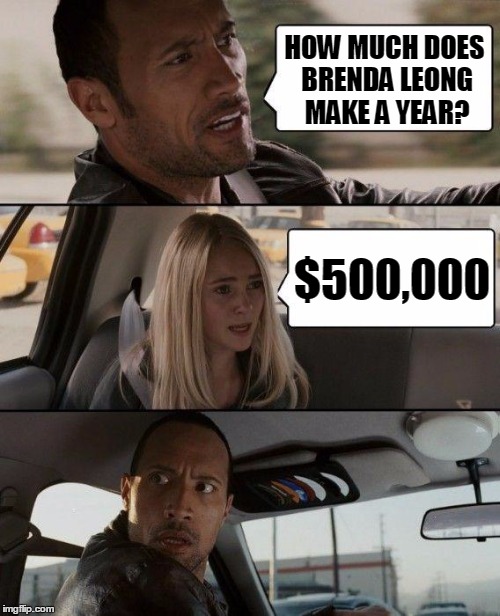 My final comment on this letter will be this – I think the BCSC are even bigger cowards/amoebas now than ever before.   Brenda Leong (and company) need to grow some skin, stop whining about this fucking blog, and respond to the seriousness of the allegations I have brought against the incompetent staff at the BCSC.    I allege Staff committed a crime and this is being ignored?   I argue that my former investors could have received a portion of their money back if my settlement offer was presented to the proper person at the BCSC – and the BCSC is ignoring that?   Brenda Leong is a terrible person and when people finally wake up and hold her accountable for her incompetence she is going to be removed from her grotesquely paid position at the BCSC.
Now, more than ever, is it time for these people to be held accountable for their actions!    Their day is here!