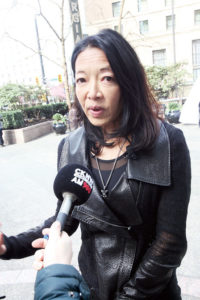 BCSC Chair Brenda Leong
(Photo: Chen Zhiqiang)
Starting in May 2016, we starting asking the BCSC's Chairman, Ms. Brenda Leong answers to some fairly significant questions.   Questions that we think need to be answered once and for all by the people at the BCSC.
Letter to Brenda Leong – May 9, 2016 – ("Explanation on Decision?")
Letter to Brenda Leong – May 11, 2016 – ("Settlement Not Presented?")
Letter to Brenda Leong – May 13, 2016 – ("Manipulating Evidence?")
Letter to Brenda Leong – May 16, 2016 – ("Did Panel make Error?")
Unfortunately, Ms. Leong has failed to answer even the simplest of question in a timely manner.   Why will this highly paid public official not stand behind anyone from her organization and support their actions?  Or, if her Staff have in fact made some serious mistakes, why does she continue to let this occur on her watch?
Our letters were originally just sent to her – now they will be sent to other government officials, the media, and published in this blog.    Ms. Leong cannot continue avoiding these questions – it is very important that they are answered.
And one thing we can promise – they will continue until we have our answers.