When one encounters legal issues the normal process is to hire a lawyer to defend against allegations.   Many people look to the internet to search for a lawyer that specializes in aspect of law that matches the offence they have been charged with.     With respect to security issues and breaches of securities law here in British Columbia – there are a few so called 'white collar expert lawyers' at a variety of law firms scattered mainly throughout the Vancouver area.    Very easily, one can find these so called experts records in a hearing room by looking at at legal decisions and findings on the British Columbia Securities Commission website or online.
These lawyers reputations and/or accreditations are routinely displayed on websites like www.bestlawyers.com  where lawyers can literally be nominated as a "Best Lawyer" by their peers.     Their website states, "Recognition by Best Lawyers is based entirely on peer review. Our methodology is designed to capture, as accurately as possible, the consensus opinion of leading lawyers about the professional abilities of their colleagues within the same geographical area and legal practice area.   Best Lawyers employs a sophisticated, conscientious, rational, and transparent survey process designed to elicit meaningful and substantive evaluations of the quality of legal services. Our belief has always been that the quality of a peer review survey is directly related to the quality of the voters."  (-END-)
Their 'Process' of selecting these "cream of the crop" lawyers is clearly outlined on their website: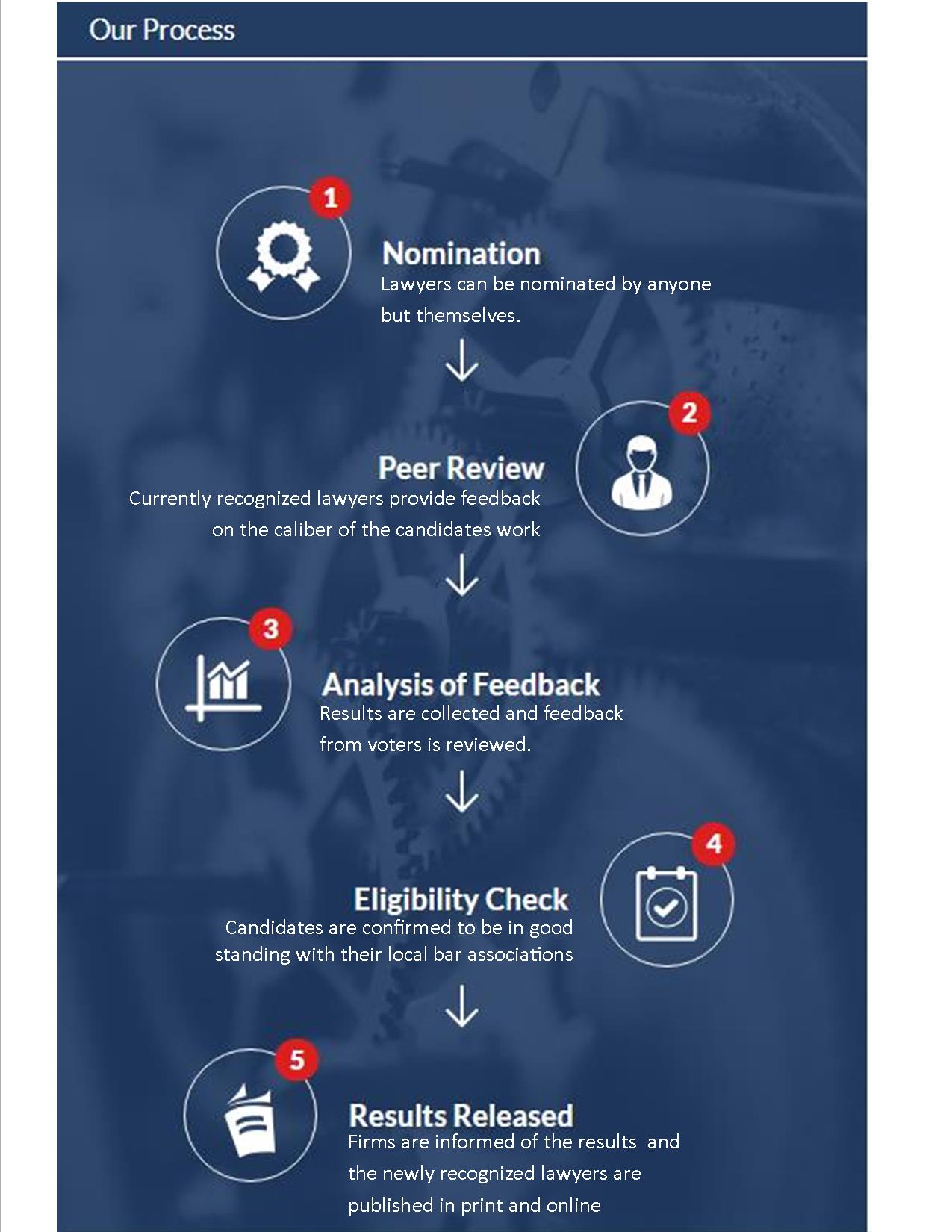 SOURCE: www.bestlawyer.com
Lexpert – Business of Law appears to be another similar website that hands out accreditations to lawyers in all aspect of law.  Their search feature indicates, "The Canadian Legal Lexpert Directory comprises the results of an extensive peer survey. This comprehensive guide to legal talent in Canada identifies both leading lawyers and law firms from across the country." 
H. RODERICK (ROD) ANDERSON OF HARPER GREY LLP
Taking a look at one lawyer in particular, H. Roderick Anderson routinely gets nominated for awards from both Best Lawyers and Lexpert.  Most recently (in August 2018) he was recognized as a "Best Lawyer in Canada for 2019″ and in April 2018, Lexpert named him a "2018 Leading Practitioner".     In fact, Lexpert has named H. Roderick Anderson a Leading Practitioner for at least as far back as 2013.  He won as well in 2014, 2015, 2016, and 2017.    Quite a distinction for a lawyer at any level and I am sure when potential clients go to his firms website and read the News and Knowledge tab, they would come away feeling very confident in his abilty to represent them in a matter before the BCSC.  But, lets take a look at Anderson's track record over those last 5 or so years…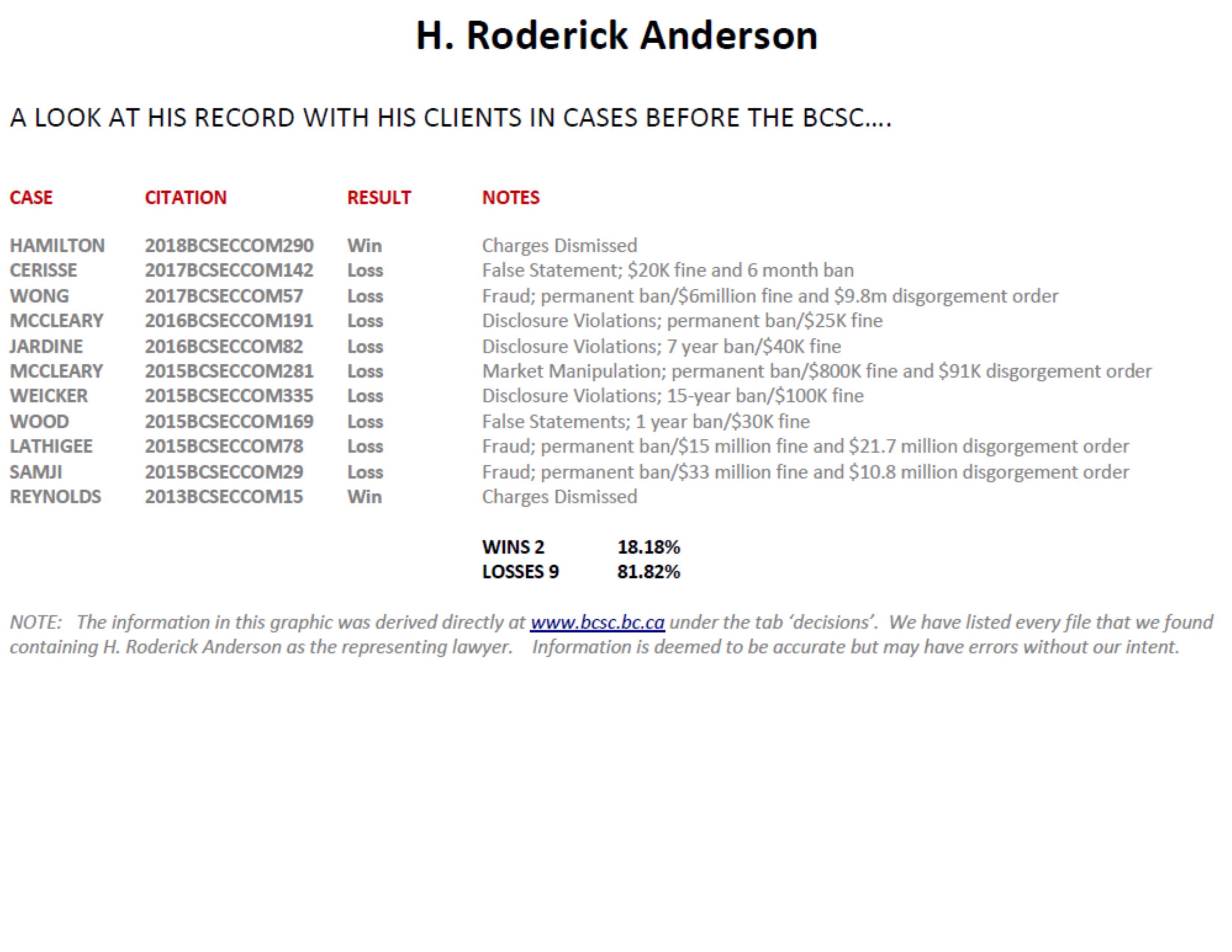 One can easy see Anderson appears to have loss after loss with files argued at the BCSC.    And of those losses, at least one of his clients is now in jail.   I thought a lawyers job was to win cases and defend their clients in these matters?
Back to websites like bestlawyer.com and Lexpert – we need to question what their criteria truly is.   You have a lawyer like Anderson that has won awards (and recommendations) and has only won 18.1% of his cases against the BCSC over the last 5 years.  This is equivalent to a baseball player hitting .181 and making the major leagues and then being elected to the all-star game.   It would be considered a joke at any level – but not with his peers who have nominated him or the people at Best Lawyer or Lexpert that have supposedly vetted his nominations.  How can a lawyer that has only won 2 cases in the last 5 years at the BCSC be considered a Leading Practitioner?
QUESTION:   Do agencies like Best Lawyer and Lexpert not have the audacity to truly vet the records of the lawyers that win their awards and recommedations?
Something to think about….that is for sure!