Email to Christy Clark – July 18, 2016
As you see by the link above, we reached out to the Premier of British Columbia, Ms. Christy Clark, in another attempt to see if she would get to bottom of our allegations against the BCSC.   We continued to be very courteous towards Ms. Clark and show her respect towards what must be a very difficult time – this despite her office not responding to any attempt we have made to get answers.   Answers that are very important to the 250 investors (and their families) that put hard earned dollars in with our companies.    As we have stated before, we are NOT deflecting away from some of our actions but there is a BIG difference between the allegations that the BCSC brought forward and reality.
This BC government wants the people of BC to think they are doing a wonderful job – this Tweet from the BC Finance Minister late last week boasts they have successfully manufactured a $730 million dollar surplus for the fiscal 2015/2016 year.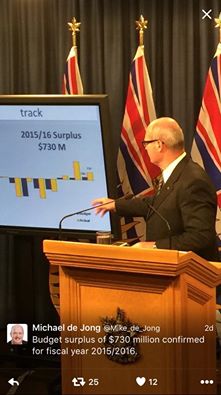 But, unfortunately for this same BC Liberal government, lets look at some other facts released on the same day as Mr. De jong's rhetoric propaganda hit the street…
TOP 10 FACTS THE BC GOVERNMENT CHOSE NOT TO HIGHLIGHT IN TODAY'S RELEASE OF THE 2015-16 PUBLIC ACCOUNTS.
…
1. The provincial debt has risen from $45.15 billion in 2011 to $65.29 billion in 2016. But at least the budget is balanced. 🙂
2. The BC government's contractual obligations have risen from $80.17 billion in 2011 to $101.4 billion in 2016.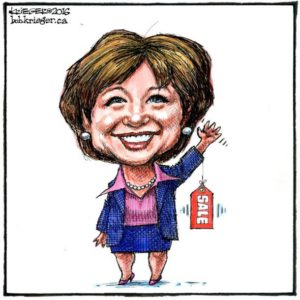 3. John Dyble, Premier Christy Clark's former deputy minister and head of the public service, was bumped out of his spot as the highest-paid public employee in the B.C. government by Craig James, Clerk of the B.C. Legislature.
Dyble who had held the spot for three years in a row took home $323,416 last year, while James earned $331,825 up from the $257,988 he was paid for the fiscal year ending 31 March 2013.
4. The long-term debt for the Transportation Investment Corporation, operators of the Port Mann bridge, has taken a wee jump from $2.029 billion in 2013 to $2.885 billion in 2016. The corporation lost $82.466 million last year.
What the government should really do is put these folk in charge of another major infrastructure project, like the Massey Tunnel replacement. Oh, right, they already have. 🙂
5. On top of their salaries, the provincial cabinet billed an additional $308,405 in capital city living allowances. Premier Christy Clark was the lowest at $1,216 and top spot went to Peter Fassbender at $20,064.
Before jumping to the conclusion that Clark is a bargain, keep in mind she commutes daily to Victoria when the legislature is in session (by air).
6. The cabinet billed $929,486 for travel last year, with three breaking the $70,000 mark: Bill Bennett ($72,682), Mike de Jong ($78,090) and John Rustad ($80,122).
7. Deputy ministers pulled down $8,625,809 in salaries last year and billed $864,417 in travel. In 2011, they earned $8,580,383 and billed $786,168 for travel.
Top three travellers were Wesley H. Shoemaker ($46,043), Athana Mentzelopoulos ($49,878) and David J. Nikolejsin ($55,416).
8. The number of full–time equivalent (FTE) employees at taxpayer–supported Crown corporations and agencies (see thread for list) rose from 4,423 in 2011 to 4,803 in 2016. It had been 3,764 in 2006.
9. The government paid out $3,823,728 in severance settlements last year and $537,721 in grievance settlements.
10. Bob Plecas was paid $76,402 for his report on the Ministry of Children and Family Development last year
Maximus BC Health was paid $62,371,509 to administer the MSP billing system.
And Canada's Big 5 accounting firms did alright: Grant Thornton ($714,664), Pricewaterhousecoopers ($1,263,841), Ernst & Young ($1,507,877), KPMG ($2,625,347) and Deloitte ($25,674,832).
Source:  IntegrityBC Facebook page (July 21, 2016) 
Speaking of Facebook, we also came across this page this week – just by glancing over a small portion of the page we think it is safe to say MANY people are fed up with the BC Liberals!!   Glad to see many are waking up to some of the horrible decisions being made in this Province and that the propaganda they are trying to spew (surplus, great economy, etc.) are being exposed!
We understand running a Province like BC is a monumental task and that Ms. Clark is more than likely pulled daily into many different directions.   However, the facts of the matter are we have hundreds of former investors in our company that are now forced to sit on the sidelines because the BCSC came to the table with an allegation that was factually inaccurate.    They have not addressed our allegation that Staff at the BCSC manipulated evidence to prove their case and they did not even look at our Settlement Agreement (see other postings in this blog) that would have seen these same investors participate in a valid real estate project WITHOUT the involvement of WKL, FCC, DCF or myself personally.
This is NOT acceptable by ANY public servant!  Time to WAKE UP, Christy!